Your friend on the freeways
Orange County freeways can be stressful in the best of times, but add traffic and a mechanical problem, and you could be in dire need of assistance–and a friendly face, which is where the Freeway Service Patrol (FSP) steps in. FSP is a unique tow truck team that patrols Orange County's freeways during peak commuting hours to help motorists whose vehicles become disabled on the highway. You may also call 511 from your cell phone and select Motorist Assistance for on-freeway assistance during FSP Operating hours. Our goal is to keep traffic moving and reduce congestion by assisting with minor roadside repairs and removing disabled vehicles from the roadway.
Best of all, FSP services are free to motorists. Our trucks and drivers help people get back on the road with limited essential assistance from a jump start to a gallon of gas or simply changing a flat tire. We'll even help take vehicles to a safe location off the freeway where motorists can seek additional assistance if necessary, all at no charge to the motorist.
The FSP program began in 1992 in cooperation with the California Department of Transportation (Caltrans) and the California Highway Patrol (CHP). The Orange County Transportation Authority manages the program, and the CHP provides dispatch, oversees the operation of the contracted tow companies, and provides field services whenever law enforcement is required.
If you have any questions or comments, please contact Motorist Services at MotoristServices@octa.net, or contact us online.
Freeway Service Patrol Operating Hours
Monday through Friday:
Saturday and Sunday
10:00 a.m. to 6:30 p.m.
I-5 - South of Alicia Pkwy,
SR-22 - Harbor Blvd. to SR-55
SR-91 – East of SR-57
I-405 – I 605 to SR-73
FSP Does not Operate During the Following Holidays:
New Year's
Memorial Day
Independence Day
Labor Day
Veteran's Day
Thanksgiving and Day After Thanksgiving
Last Week of December for Holiday Break
New Year's Day

Orange County Service Area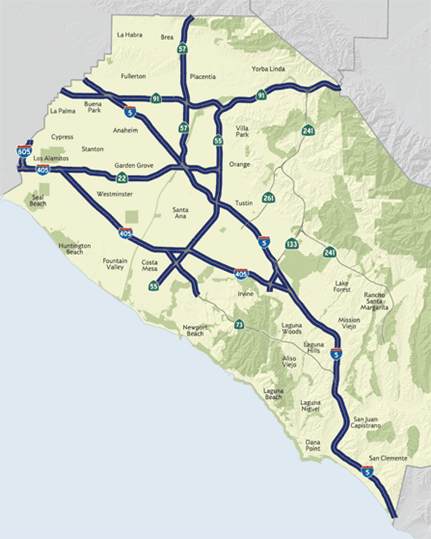 Safety Tips
It is always good to know what to do while waiting for help to arrive. Here are some safety basics recommended by the California Highway Patrol:
If you can, move your vehicle onto the right shoulder out of traffic lanes.

If involved in a traffic collision, move your vehicle to a safe location if possible before exchanging insurance information.

Stay inside your vehicle with your seat belt on until help arrives. If you must exit the vehicle, stay as far away from the roadway as possible.

Use added caution in bad weather since a passing motorist could lose control of their vehicle


Frequently Asked Questions
Because there are always questions, here are some answers to the basic questions we hear the most.
What services can the Orange County FSP provide?

If your vehicle stops running, the FSP can help by:

Offering you a gallon of gas if you ran out
Jump start your dead battery
Refill your radiator and make minor hose repairs
Change a flat tire 

 
What if the FSP can't get my vehicle running?

It will be towed from the freeway free of charge to a pre-designated on-street location.

If my vehicle is towed to one of these locations, will the FSP help me get to a phone?

Yes. The FSP will take you to the nearest phone so you can notify a friend, relative or auto club.

How will I recognize the FSP?

All FSP tow trucks are white with the FSP logo on the doors. Drivers wear blue uniforms and bright yellow-green safety vests with the FSP logo.

Are Orange County FSP drivers certified?

Yes. Drivers receive their certification only after completing a CHP training program.

Can the FSP tow me to a private repair facility?

No. FSP only tows vehicles to locations identified by the CHP. The FSP is not permitted to recommend other tow companies or repair facilities.

Which freeways do the Orange County FSP patrol?

Check the map for FSP coverage..

What happens if FSP is unavailable or if my needs are beyond what FSP may provide?

If FSP service is unavailable or if the need is beyond what the FSP provides, 511 may assist a motorist by helping to arrange service through their Club Towing, the CHP Rotation Tow program, or by contacting a Friend or Family Member.

What Is The CHP Rotation Tow program?

The CHP Rotation Tow Program allows licensed and approved members of the towing industry to participate in a rotational tow list managed through the California Highway Patrol. The purpose of the program is to equitably distribute highway-related service calls from the public when other services are not available or appropriate and ensure that the public receives ethical and fair treatment from private tow companies who participate in the program.

The CHP Rotation Tow Program services are available 24-hours a day, 365 days a year.

There is a charge for Rotation Tow Program services. Rotation Tow providers are to make rates available to customers upon request. PLEASE REQUEST SERVICE RATES WHEN THE ROTATION TOW PROVIDER ARRIVES.

Tow operators are not required to accept checks but are required by law to accept a valid credit or debit card.

To learn more about the CHP Rotation Tow Program, please visit chp.ca.gov.
Customer Comments
Thank you for taking the time to leave us your feedback. Our operators it!
4/21/23 Just thank you! Three old ladies on their way back to the airport blew a tire, and this miracle showed up to help us without expecting anything in return. The rental car company was not helpful, so we genuinely appreciate FSP. He was very professional, cared about our safety, and quickly got us on our way.
Survey I.D. # 19053096033
4/25/23 My wife and I were so shocked. We don't have much money, and I know nothing about cars. I was so thankful for the gentleman and this service; he was so quick and professional. We are super grateful for his help. Thank you for making this service for the public; we are incredibly thankful 🙏🏻.
Mr. and Mrs. Walker
4/20/23 This was my first time traveling on an LA freeway. We were coming back from a day at Disney when our rental car blew a tire on the 405. Our rental company was useless and hung up on us! But within minutes, your operator was there for us. Such a relief! This gentleman was kind and showed us courtesy and compassion while changing our blown tire to the spare. We discussed how he got to us so quickly for the rest of the evening. Being on the side of the freeway was such a stressful and scary experience, but he kept us calm and got us safely on our way. What a great program this is.
Survey ID # 19053086351
4/28/23 The FSP Operator checked the perimeter and underneath my vehicle to ensure nothing else was broken. I have a handicapped-accessible van, and he helped me store the broken panel inside. He waited behind my vehicle and intervened with traffic so I could merge back onto the freeway.
Survey ID # 19055703224
4/20/23 The FSP Operator was very professional, kind, and courteous. He arrived quickly, introduced himself, gave me a brochure and card, had me stand in a safe area, and then went to work. The FSP Operator removed the good tire from underneath my truck and installed it quickly. He was very concerned about ensuring everything was back together and cleaned afterward. He was extremely pleasant and knowledgeable. I would recommend the FSP Operator to anyone in need. Thank you for hiring such kind and gracious staff.
Survey ID # 19053168253
4/13/23 The FSP Operator arrived within a couple of minutes of my running out of gas. He was professional, courteous, and kind and would not accept a tip. He and FSP are a Godsend, and his presence and service were reassuring and deeply appreciated. Thank you so much.
Lily
4/21/23 The FSP Operator pulled up before I even completed my 511 call. I broke down in the Fastrack, and FSP got me off the freeway quickly and safely. He was fantastic to talk to. I wanted to tip him, but he said he could not accept tips, so I really want to recognize his diligence in ensuring I was always in a safe place (and comfortable). I appreciate the overall experience. Those guys have a risky job. So much respect! I hope they are recognized for that. Thank you!
Survey ID # 19054362428
5/2/23 I was driving along the 22 freeway headed eastbound when my vehicle ran out of gas right after the Harbor exit. I was able to pull over to the right shoulder so I would not impede traffic when the FSP Operator pulled up and was able to quickly give me some gas, which would get me to the next gas station, and even guided him off the shoulder and the freeway to the gas station. The FSP operator was incredibly polite, friendly, fast, and helpful.
B. Gonzalez
5/25/23 I had just pulled over off the 55 freeway heading towards the 91 Riverside County freeway with a rear left flat tire. While trying desperately to get a hold of my insurance provider, an FSP Operator pulled over out of nowhere in front of my truck and politely and respectfully asked if I needed assistance. Within minutes, he had changed my tire and got me back on the road safely. After 23 years of providing emergency services myself, I was on the other side of the line, and it felt good to know you have operators ready to assist those in need. Thank you all again for being the freeway heroes you all are. God bless.
C. Walker
6/19/23 My wheel well was broken and had broken again on the freeway, so I pulled over to duct tape it. The FSP Operator tried to assist me by wiring it, but then he saw that I was taping it with gray tape. He offered to tape over it with white tape since my car was white and it might look a little better. The operator was very efficient, and I appreciate his effort to help me.
K. Lopez