Chief Executive Officer - Darrell E. Johnson
Darrell E. Johnson is the Chief Executive Officer of the Orange County Transportation Authority, leading an agency of 1,500 employees responsible for delivering projects, programs and services that improve mobility for the more than 3 million residents of Orange County.
Under the direction of OCTA's 17-member Board of Directors, Johnson is responsible for a $1.4 billion annual budget and implementing the planning, financing and coordinating of Orange County's freeway, street and rail development as well as managing countywide bus services, commuter-rail services, paratransit service and operation of the 91 Express Lanes.
Since becoming CEO in early 2013, Johnson has focused on the early delivery of projects through Measure M – Orange County's voter-approved half-cent sales tax for transportation improvements. Expediting the Measure M plan will result in more than $5 billion of freeway projects completed or under way years ahead of schedule, with an additional $1.4 billion ready to begin construction.
In addition to capital project delivery, Johnson has placed an emphasis on enhancing the efficiency and safety of OCTA bus and Metrolink commuter-rail operations that serve more than 1 million passengers each week. One of his first actions as CEO was to request a Safety Peer Review from the American Public Transportation Association.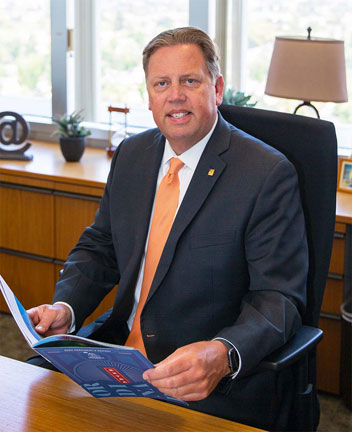 OCTA's first limited-stop bus service was launched last year with ridership surpassing initial projections. Ridership continues to climb on bus and Metrolink service to special events in the county and region, including the Angels Express trains to baseball games and OC Fair Express bus service.
Under Johnson's leadership, OCTA was named the managing agency of the Los Angeles-San Diego-San Luis Obispo (LOSSAN) Amtrak service. The 351-mile LOSSAN corridor running through a six-county coastal region in Southern California is the second-busiest intercity passenger rail corridor in the United States. OCTA has worked with partner agencies to transfer administrative responsibility for state-funded Amtrak Pacific Surfliner service from Caltrans to a new, locally governed Joint Powers Authority. This action is the first step in an effort to integrate rail services to better meet community and customer needs.
As Johnson leads the effort to enhance all modes of transportation for the residents, businesses and tourists of Orange County, he has done so with an emphasis on keeping OCTA a financially sound agency that safeguards taxpayer dollars. Johnson implemented a pension-reform plan that will save Orange County taxpayers $85 million during the next 20 years. A new contract for ACCESS paratransit service was executed resulting in a $46 million savings. A refinancing of the 91 Express Lanes debt resulted in a savings of more than $26 million over the next two decades and the lease for OCTA Headquarters was renegotiated to save $40 million during the next 30 years.
Johnson is responsible for developing and implementing short-range and long-range goals and business plans to support the successful implementation of the agency's strategic vision. He represents OCTA on local, state and national issues related to transportation programs and policies and in 2012 he was elected to serve on the Board of Directors of the American Public Transportation Association. He completed the Senior Executives in State and Local Government Program at the Harvard Kennedy School of Government.
Prior to joining OCTA, Johnson worked at Amtrak for 12 years, where he held positions in operations, planning, and finance and contributed to the development of passenger rail corridors in California, Oregon, Washington and British Columbia.
Johnson lives in Rancho Santa Margarita with his wife and two daughters.
Deputy Chief Executive Officer - Jennifer L. Bergener
Jennifer L. Bergener is the Deputy Chief Executive Officer for the Orange County Transportation Authority.
As Deputy CEO, Bergener works directly with CEO Darrell E. Johnson in advancing efforts to fulfill OCTA's mission of keeping Orange County moving with a balanced and sustainable transportation system. She also helps oversee the agency's more than 1,300 employees and an annual budget of $1.4 billion.
Bergener is a transportation industry veteran with diversified experience in programming, finance, project development and delivery, as well as government affairs. She began her career at Amtrak where she provided project development and cost controls and she also worked at the San Mateo County Transit District as a grant and program writer.
For the past 18 years, Bergener has been at OCTA serving in roles with increasing responsibility, primarily in rail planning, project and program delivery and new transit services development. She also served as the Managing Director for LOSSAN, which is the managing agency for the state-supported, Amtrak-operated Pacific Surfliner intercity passenger rail service.
Bergener is married with three sons and lives in Villa Park.