Motorist Services Program
We're all about helping you with your travels.
Whether you're a long-time resident, here on a family vacation, or just passing through, the Orange County Transportation Authority's collection of Motorist Services are designed to help keep you safe, and well-informed, during your travels. They are here to help, no matter if you're traveling by car, bus, rail or taking a taxi.
Orange County Motorist Services range from assisting stranded freeway motorists to overseeing a successful taxicab administration program. Here's a brief overview of the services we provide:
If you have any questions or comments, please contact Motorist Services at MotoristServices@octa.net.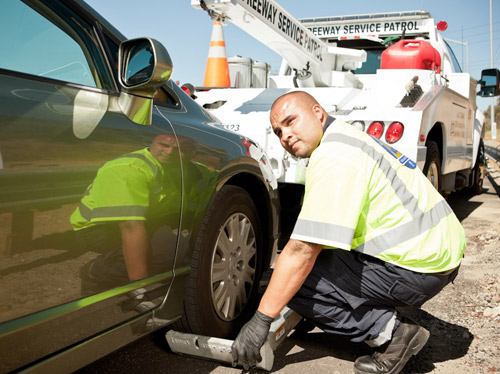 From a jump start to a gallon of gas, or simply changing a flat tire, Freeway Service Patrol trucks and drivers help people get back on the road. They'll even help take vehicles to a safe location off the freeway without charge.
Motorist Services manages the Orange County call box network with over 400 call boxes found on all major Orange County freeways, at transit centers and along toll roads and select state highways.
The 511 Motorist Aid and Travelers' Information System helps commuters outsmart traffic by simply calling 511, going online at go511.com, or using the 511 mobile app.