Kids Corner
We're looking after your safety…so should you!


Being rail safe means being careful around railroad tracks. Trains are cool and fun, but you have to be careful when you are around them.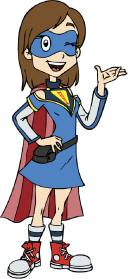 Cross railroad tracks only at safe designated areas.
Look both ways before crossing!
Trains may not always sound their horns in quiet zones.
Don't walk on the tracks. It's dangerous, against the law.
Never play near or around railroad tracks.
Learn and follow railroad warning signs.
Don't go around or under when crossing arms are down.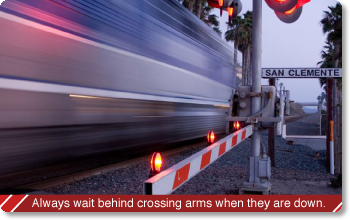 Advance Warning and Crossbuck Signs
These signs warn you that railroad tracks are ahead. Watch out!

Stop Sign
Just like stop signs anywhere else on the road, a stop sign at a railroad crossing means, "STOP!" A car can go after it has stopped, and it is safe to proceed.

Yield Sign 
All yield signs mean the same thing: wait for other cars, pedestrians, or, in this cars, trains to pass before going. Always wait until it is safe to cross. 
Trains cannot stop quickly.
Trains cannot swerve out of the way for people or things on the tracks.
Trains can weigh up to 6,000 tons! If a train were to hit a car, it would be like a car running over a soda can.
A train may extend three feet or more beyond the tracks.
Trains can come at any time.
Trains move in either direction at any time.
Trains may be very quiet and may not give any warning.