Farrah N. Khan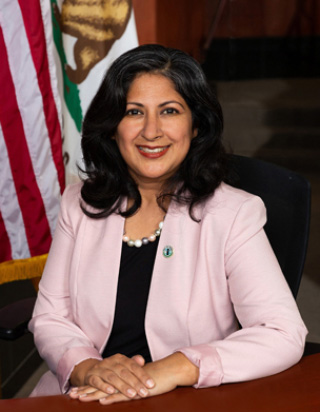 Mayor, City of Irvine
Director Farrah N. Khan made history in November of 2020 becoming the 23rd Mayor of Irvine. She not only received the highest number of votes for the position of Mayor in the city's history, but also shattered glass ceilings as the first woman of color to hold the position, and the first Muslim woman to lead a large city in the United States. Orange County's City Selection Committee appointed Khan as a city council representative to the OCTA Board of Directors in January 2023.
Director Khan grew up in northern California and began her career in the biotech and innovation industry as a regulatory manager focusing on streamlining complex products and international research. She and her family moved to Irvine in 2004 where her two sons have had the privilege of attending Irvine schools since Kindergarten. She and her husband also serve as Legacy Partners with the Irvine Public School Foundation.
Director Farrah N. Khan is focused on ensuring that the City of Irvine is a leader throughout Orange County and California when it comes to innovation and technology, maintaining a healthy environment, combating climate change, and protecting the health and wellness of Irvine's diverse communities. In her short time after her election, Khan has initiated several new strategies leading to Irvine becoming the first City in Orange County to spearhead COVID-19 Vaccination Clinics in local neighborhoods and senior centers, passed HERO pay for frontline grocery workers, created a new committee focused on Diversity, Equity & Inclusion, and adopted a resolution with strategies to support achieving carbon neutrality by 2030.