Sustainable Structures
Resilient structures with environmentally conscious features help ensure that transportation throughout Orange County continues uninterrupted now and in the future.

A key example is OCTA's Transit and Security Operations Center (TSOC) that will replace an outdated facility. Expected to be completed in 2024, the TSOC will include these sustainability features:
Renewable energy with solar system
Electric vehicle charging stations with smart charging system
Water quality management system
Recycled asphalt pavement and aggregate base products
Energy efficient equipment/features in the building - Cal Green Building Codes
Raised floor air supply system for improved energy and indoor air quality performance
HVAC system economizers for increased outside air delivery and energy savings
Lighting control systems to reduce energy consumption, LED lighting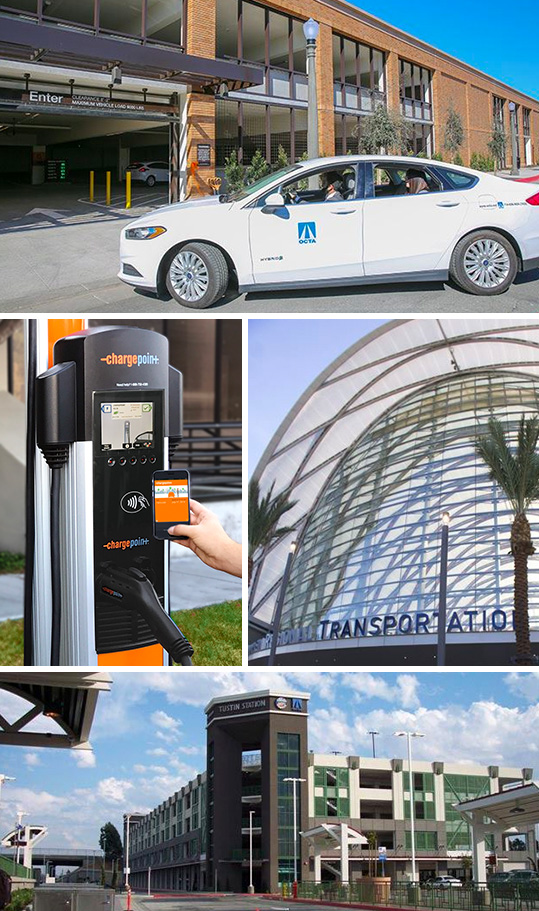 Other projects with sustainable features include: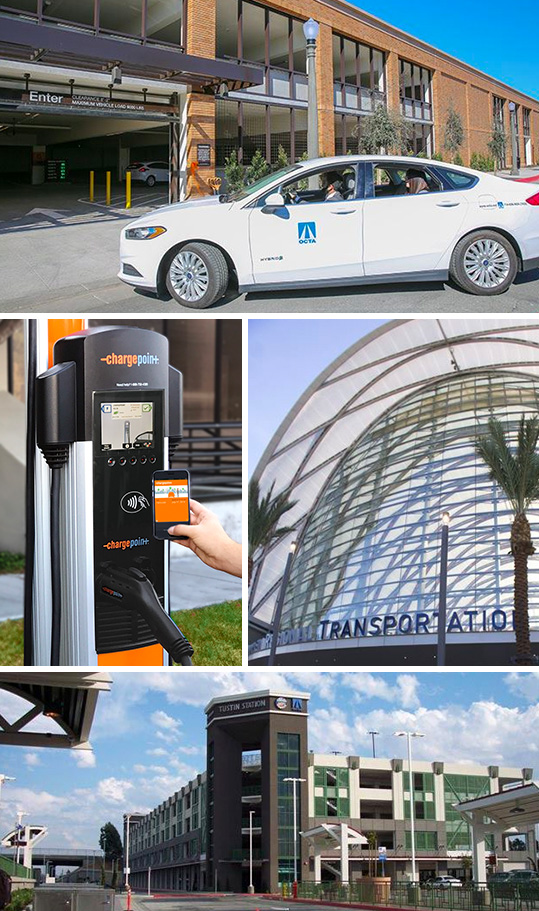 The Orange Metrolink Transportation Center Parking Structure, which incorporates rooftop solar panels and other modern smart technologies while preserving Old Towne Orange's historic architectural aesthetic, earned OCTA The Innovative Project Award from Women Transportation Seminar (WTS).
OC Streetcar earned an Envision Silver rating for sustainable infrastructure from the Institute for Sustainable Infrastructure for a variety of features, including stops designed for streamlined maintenance and a maintenance facility train wash system designed for ease of maintenance, recycling and parts reuse.
The Tustin Metrolink Station Parking Structure features solar panels and LED lighting to offset the energy needs of the structure.
OCTA's Anaheim and Irvine Construction Circle bus bases will be equipped with standby power generators to support 24/7 operations in the event of a utility power loss. The new generators will reduce air pollution by using internal combustion engines that are in compliance with South Coast Air Quality Management District (SCAQMD) regulations. They also feature low noise pollution when standby power generators are in operation, high fuel efficiency, and excellent power reliability.
With a goal of sustainability, the Anaheim Regional Transportation Intermodal Center optimize energy efficiency. The radiant heating and cooling floor system and optimized HVAC system will help reduce ARTIC's energy consumption by 50 percent.
Electric vehicle charging stations will be placed at OCTA's Garden Grove and Santa Ana bus bases to support 30 electric operator relief vehicles and five employee vehicles at each base.
Additional Resources
Working together with the City of Orange, OCTA led construction of the new, multi-level structure featuring over 600 parking spaces for Orange Transportation Center transit and rail users.
The Orange County Transportation Authority (OCTA), in partnership with the City of Tustin, constructed the Tustin Metrolink Parking Structure.